What is ShareASale and Why Should You Care?
Have you ever heard about ShareASale?  Because you already are a blogger monetizing your blog, you most probably have come across it and are already using it.  If not, we suggest you continue reading to familiarise yourself with this company.  ShareASale is an affiliate marketing partner that you can join to monetize your blog.
 Always Use a Genuine Affiliate Marketing Program
Also, you want an affiliate partner that has a variety of products.  It's better to belong to a few good affiliate partners that have most of the products within your niche than to belong to too many.  We discuss this in detail later.
Because we are honest in all things, please be aware that this blog post contains affiliate links and any purchases made through such links will result in a small commission for me (at no extra cost to you)
ShareASale Fun Facts and History of this Affiliate Marketing Company
ShareASale is a marketing network based in the River North neighbourhood of Chicago founded in 2000. The fact that they are still going strong is an indication that they run a good business.  ShareASale services two customer sets in affiliate marketing: the affiliate, and the merchant.  It assures a beneficial alliance.
How Do I Make Money Using Affiliate Links?
As a blogger in a niche, writing about a product or company that you love and trust is part of your job.  Your article must not be salesy! Write naturally about what you like or don't like about the product.  You could write a review or opt to write about using the product.  While writing the article, you will link keywords with a unique affiliate link that allows the affiliate partner to track it using a cookie.  A reader clicks on your affiliate link. The sale is yours. You earn a commission.
ShareASale hosts 3,900+ Affiliate Programs spanning 40 different categories.
Payment: minimum of 50 dollars
Another reason is that they have been doing business for 18 years
Easy to join and easy to use.
Great Analytics
Training
No contracts
Here Are The Steps
First, you have to sign up. It's free to join, but you will need a website or blog.  Wait a day or two for acceptance.  They accept you. Acceptance into all the 3900 + Affiliate Programs is not automatic.  You have to request to join them.  You can browse their directory to find Affiliate Programs suited to your niche and join them.  If the Merchant feels that your blog is a good fit they will partner with you.  First of all, don't worry, it's not that difficult.  You can soon get to work producing content with links on your blog.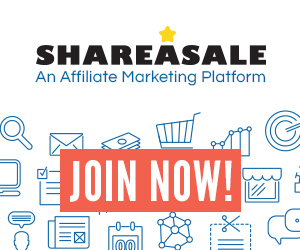 But, How Do I Find Merchants?
When you are accepted, you can log in, and your dashboard will look something like this (see screenshot below).  Click on the Merchants drop-down menu and then click on Search For Merchants.  You will see a search box on the left top side.  You can use the search facility, or you can click on a category.
When you have found an Affiliate Program that you want to join, click the JOIN PROGRAM button (see screenshot below),  at the top left-hand corner of the merchant.  Click on it and follow the prompts. ShareASale will notify you via email once accepted. Depending on the program you might be joined up instantly, or it may take a few days.
What Kind of Things Should you Promote on Your Blog?
Depending on your niche, select the items that promote it. For example, let's say that your blog is about 'Healthy Dogs.' Then; look for dog food, accessories, collars or anything related to that market.   Look for items with better commission structures.  You don't want to spend a lot of time crafting a lengthy article for a low commision rate.  Make your time count!
Secondly, when looking at the Merchant Detail, notice the cookie day (see screenshot below).  In the example below, you will see that this particular program only has a 15-day cookie.  It means that it will track your unique affiliate link your reader clicked on, for 15 days and no more.  So if your reader purchases within 15 days you qualify for the commission.  If your reader purchases the item on the 16th day, you will unfortunately not get the commision.  Always look for 30 to 60-day cookie tracking to maximize your chances of making money.
How Do I Place an Affiliate link In My Blog Post?
In the drop-down menu (see screenshot below), click on Links and then click on Get – Link/Banner. After you are redirected to a page that contains all of your affiliates, select the affiliate program (AF) you want to link.
Now easily insert banners or text links from here. When you have selected your AF, it should look something like this. You will notice in our example below that there are 25 Text Links, 26 Banner Ads, and 1 Video.  Click on the type you want.
If linking a keyword in your blog article to one of your affiliate links is what is needed, then click on Text Links and click on Get HTML CODE.  Next, hit the "Select URL Only" button. Select and copy the URL.
Next, select the keyword or phrase you are linking. Use the Edit/Link tool
in your WordPress editor to place the copied URL.  Tick the "open link"  to make sure that your reader stays on the page. Paste the URL into the URL box and save.  Hooray! The Link is live.
You can also add a banner by using the banner option in ShareASale.  Select the HTML code banner.  In your WP Editor, you will switch from Visual to Text (top right corner) and past your HTML code where you want it displayed in the post.  When you return to Visual your banner should show.
In Summary
Affiliate Marketing is a proven way to monetize your blog. ShareASale is a reliable resource for us, and we love that there are so many merchants under one roof.  The minimal pay threshold means that even if you are new, you can draw funds early on.  Sign up Here for free. 
FOLLOW US!