How to Use Tailwind for Pinterest To Explode Your Traffic
Do you know How to Use Tailwind for Pinterest to Explode Your Traffic?  Pinterest has become a favorite search engine for millions of people today and that is why Pinterest should matter to bloggers.  If you already use Pinterest to drive traffic to your blog you are aware of the power and potential it has. The Tailwind App turbocharges your Pinterest marketing efforts.  Learning to use this fantastic tool will be a real game changer for any blogger.  Our traffic literally exploded since we started implementing Tailwind into our marketing strategy. It's not that difficult to master.  The guys at Tailwind have done a fantastic job of putting training programs together for their users.  We love Pinterest not only as a great marketing tool and traffic driver but also because it's fun to use.
Yes, the Tailwind links in this post are affiliate links. I pay for Tailwind and would only recommend products that we personally use.
What's Tailwind?
Tailwind is a scheduling tool for platforms like Instagram. You will love its powerful analytics tool.  It saves you time by scheduling to your feed.  You are able to post for maximum engagement.  You grow within your tribe and your traffic is guaranteed to explode.  It really does work.
Who Needs This?
Anyone already using Pinterest as a marketing strategy will find Tailwind very useful.  It's perfect for new or veteran bloggers and business owners wanting increase web traffic.
What Results Can I Expect
It's Called Leverage
Using the Tailwind App is a clever use of your time. Sitting behind your computer or device pinning to your account regularly throughout the day is a waste of time. Remember that running a business means that you need to be doing several things at once.
Additionally, you probably will not access most of the boards you can find in the tribes available on Tailwind.  Your pins can now go viral.  As a professional blogger, do not spend endless hours promoting yourself.  Yes, it is important and social media should form part of your growth strategy. However, your time should rather be spent growing your business, creating products, training, webinars or coaching sessions that you can sell. Tailwind is a means of outsourcing some your workload, freeing you up to focus your sales.
How to Use Tailwind for Pinterest:
So what do you get for your cash?  Why is Tailwind so special? Let look at our favorite features:
Tailwind revolves around working together as tribes. On joining Tailwind you become part of a tribe that is aligned with your niche.  Following their rules is important. For instance, for every pin you pin, you should pin two pins. (Whoa, did you get that?) This creates a "paying it forward" community.  Don't come here thinking it's just about promoting your brand.  It's important to work together towards a common goal. So if you do your bit the community will look after you.
So once you've been accepted into a group you will choose a pin or two that fits your Pinterest account and then schedule them.  You then submit a pin of your own.  Where the magic happens is; if four, five or more pinners decide to pin your pin,  your pin will then be entered into their schedule and submitted accordingly, giving you an opportunity to go viral.  Your Pin ends up on powerful boards that you would probably never have known about or belong to.  Remember,  that the majority of people who belong to these tribes are serious bloggers and have influence and clout. The trick is making your pin visually attractive to pinners.  This will increase the repinning likelihood.
Tailwind allows you to schedule an indefinite amount of pins.  Repeatedly pinning. This feature saves a ton of time allowing the important work on your blog to be done.  You can take an hour or two out of a week, quickly and effortlessly schedule content and sit back and enjoy reaping the rewards.  A vital feature for busy bloggers!
This is by far our favorite feature.  I have no idea when is the best time to pin. And it would take me an age to sit down and figure this out.  Tailwind tells you the best times to post for maximum effect.  When you set up your Smart Calendar the App asks how many times daily you will be posting, and then these smart schedules are created.  It's that simple.
Your analytics will tell you what is working.  Pinterest does provide analytics, but not nearly powerful enough. Tailwinds' tells you which boards are doing the best and which pins are working.  It also informs you of how many new followers have been attracted and how many you've lost. This information can tell you what your audience wants,  where they like to travel or their fashion preferences.  This information can help you produce content designed for the wants and needs of your followers.
Make sure that you download the Tailwind browser extension. It works on all the major browsers.  From here you can simply add content from your own site and any others.  With this feature, you can schedule the pin and allocate it to a tribe.
Here is what it looks like in my toolbar. See the tailwind icon in the right-hand corner…
What Does it Cost?
For bloggers or small businesses, you can sign up for a Free Trial.  This enables scheduling and publishing of up to 100 Pinterest Pins and/or 30 Instagram posts.  You are not limited to 30 days.  Take your time with it.  Later decide if you want to go onto a paid plan.  Packages start at $9.99.  Once the free period is over, you will have a more complete idea of how to move ahead.
Final Words
With Tailwind, you can grow your traffic faster and effectively with half the time and effort.  I recommend it because we use it and have found it effective.  Sign up for the free trial today to test it for yourself.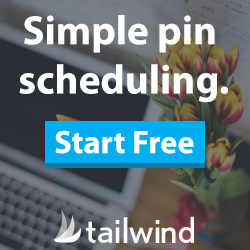 SaveSave
FOLLOW US!